Shimano Crankset Failures: An Engineering Analysis
Introduction
Shimano have had some issues with their high end cranksets in recent times. It seems as though the Ultegra and Dura Ace cranksets are the primary units affected. There have been many reports of the cranksets fracturing in half. Some of these have been under modest load on turbo trainers whilst others have been on load. The failures have been so frequent that a dedicated hashtag has emerged (#ThanksShimano).
Background
The Hollowtech naming system is used by Shimano for both their bottom brackets and cranksets and this causes some confusion. For the purposes of this post, the version of Hollowtech in question refers to the cranks.
The failed crankset that this analysis concerns is a Dura Ace 9100 unit. 175mm cranks. Approximately 3.5 years old. The failure occurred in someone with the power output of a shrimp.
The last few generations of Dura Ace and Ultegra cranks have incorporated hollow crank arms and a semi hollow crank arm spider made of aluminum. The drive side spider resembles a clamshell that has been bonded at the interface. Shimano have done this to save weight as there would be a considerable weight penalty for having a solid lump in this area. Additionally, Shimano use a Steel axle. The joint between the Steel axle and Aluminum crank arm is made within the region of the clamshell.
The non drive side has a spline drive with a preload collar for installation and to take up the slack.
The particular problem manifested itself in two ways. The first was a noticeable creak that was immediately thought to be the bottom bracket (even a threaded hambini bottom bracket) followed by knee pain on the drive side. After further investigation, the knee pain was investigated and traced to excessive ankle movement and video footage of the bike on a turbo trainer showed visible "flexing" of the crank arm. The crank arm was subsequently removed and dry tested and found to be at fault. The failure point was very small physically but had quite a profound impact on performance. A video with the creak is shown below
The UK distributor was contacted and they (Madison) did give the impression they would swap it out and advised contacting the place of purchase. The supplying dealer was contacted – Merlin Cycles. Merlin refused to even go near it, stating the item had gone over it's warranty period. They also stated they did not get their Shimano supplies via Madison so it begs the question about where exactly they are getting their Shimano parts from.
As the item had no value for a warranty claim and had not completely failed, it was then subjected to engineering analysis.
Mechanism of Failure
The ultimate mode of failure is a break in the joint between the two halves of the crankset but this is the symptom and not the root cause. In the case of this failed example, there is clear evidence of galvanic corrosion and almost all units have failed as a result of some form of corrosion. The aluminum close to the steel joint has corroded excessively.
The photograph below shows extensive corrosion on the crank arm spider drive side
The close clamping style design of the crank also increases the chance of crevice corrosion because it is almost impossible to get a perfect seal between the two surfaces. Flexing under high lateral torque loads is unavoidable and this makes water movement by capillary action of real concern.
Galvanic Corrosion is caused by a movement of ions (battery effect) from the use of dissimilar materials with the presence of an electrolyte (usually water, salt water makes the effect stronger). Steel and Aluminum are of unequal potential. Aluminum which is more anodic than Steel is attacked preferentially and in this usage case almost acts like a sacrificial anode. The more Noble material (Steel) is largely spared. This is shown by the unmarked axles.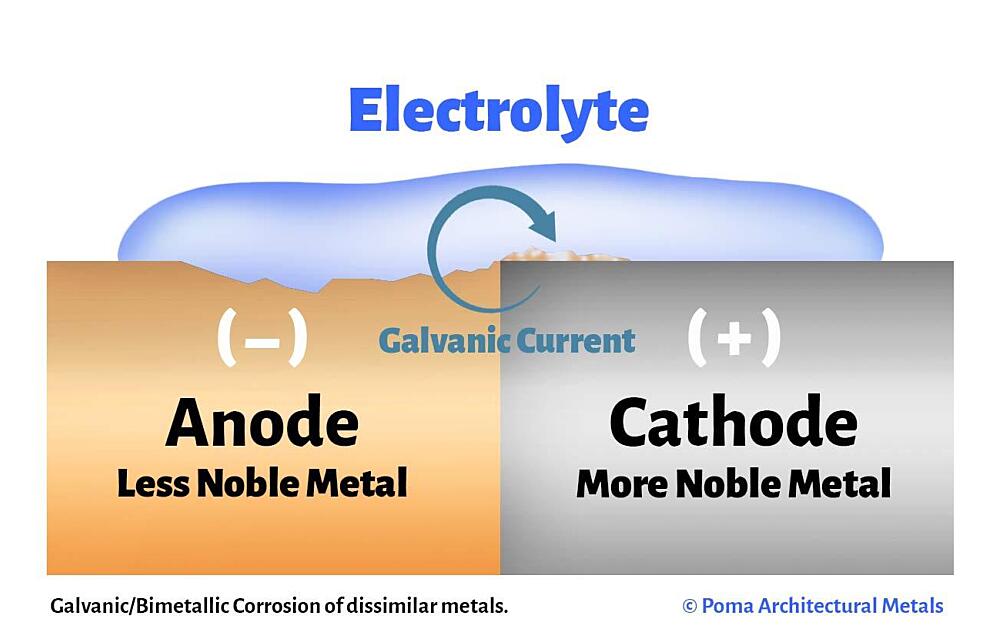 The failure of this type of crankset is a very public display of the problems associated with Galvanic Corrosion but some of these issues are exacerbated by ill thought out decisions by riders. Many riders fit stainless steel bearings and fasteners into their bikes on the premise they will not corrode. They probably do not realise that the fitting of these items into dissimilar metals or anything with galvanic potential will cause the more anodic material to be attacked. Hence fitting stainless steel or even titanium screws into stems that are usually 7075 aluminium will cause that stem to be attacked because the galvanic potential is higher than that of carbon steel. Hole surfaces are usually machined and devoid of any surface coating and in any case the screwing action would probably remove any coating and hence the battery (and corrosion) begins.
Some readers may be asking why Shimano have not simply coated the inside of the crank. The main reasons for that are likely to be cost and the adhesive properties of the glue. Glue of this type of nature tends to have much less shear strength on coated surfaces.
Shimano's response
Shimano have largely tried to deflect the situation and at least publically deny there is a problem. The closest that anyone seems to have gotten to an official statement is from Ben HIllsdon (Shimano Europe PR) who gave a reply to bikeradar.
"We take our customer's experiences very seriously – one product problem is one too many as far as we are concerned. So we work hard to make sure our products meet our exacting quality standards before they leave our factories, which is evidenced by the millions of riders having countless miles of problem-free experiences.

"It is difficult to answer your question on patterns of failures because there are so many people globally using our products in different circumstances and in different ways.

"For example, one might assume that climatic conditions (eg weather), a rider's personal riding style (eg power/weight), or usage conditions (eg a crash) could impact product performance but there is no overall pattern that we have identified to explain why one consumer might have an issue whilst a similar consumer will have a lifetime of riding enjoyment.

"We do treat the problem very seriously though. First of all we recommend that consumers regularly maintain their bikes to spot any potential issues.

"Secondly, we are always studying and learning from our current products to make better products in the future, so feedback like this, even though in this case it was an anomaly that was experienced on an older previous generation model, will undoubtedly contribute towards better products for consumers.

"Finally, we recommend that any consumers experiencing any less-than-perfect Shimano product should take it to their nearest dealer to discuss a solution."

Ben HIllsdon, Shimano Europe
The above statement is unsurprising. There is no admission of liability and no admission of any problem existing.
Failure Image Gallery
Conclusion
It is highly unlikely that a crank of this design in the field has no onset of corrosion. It would need to be operated in a completely arid environment devoid of any potential electrolyte. If the crank is being used in wet weather conditions, it would likely be prudent to invest in a forged crank such as Shimano 105 or Rotor.
Rotor cranks are forged and have weight reducing machining on the outside of the crank. From a purely torsional perspective this isn't as good as a complete box section as the Polar Moment of Inertia is lower but it has no joints so in practice it would be easily stiffer than the Dura Ace described in this post.
Video Analysis
You can watch the complete breakage, creaking and engineering analysis, complete with sarcastic engineering commentary on YouTube